Wedding Books
In 50 years, your album will be the one thing that you and your family will have to show exactly what it looked and felt like to be at your wedding.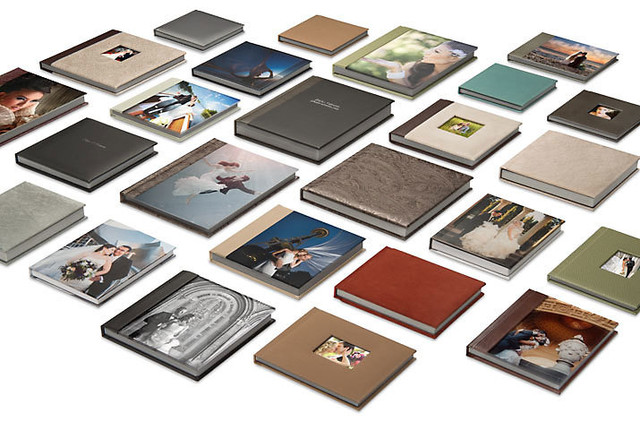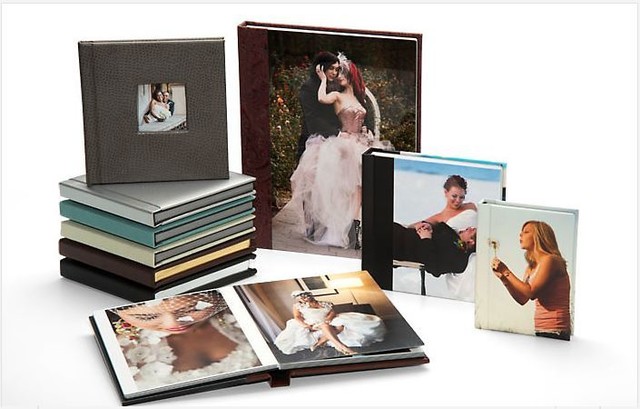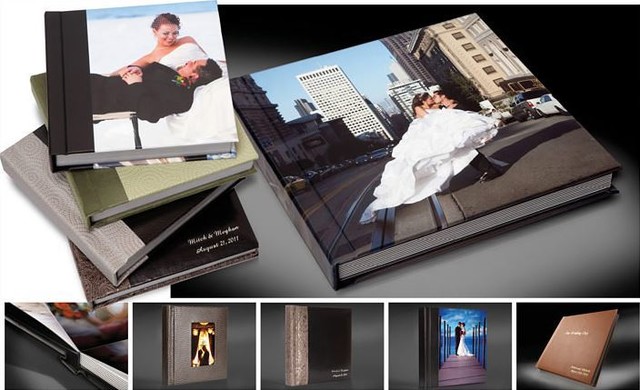 Our wedding books are fully customizable. Choose from an assortment of mix-and-match cover materials, page gilding, custom imprinting, and more. You can have up to 70 pages in the book. With nearly endless possibilities, we can create a unique book that is perfectly suited to your tastes. Each book is delivered in a black felt bag inside your choice of the gift box to protect your valuable memories.
Book Box
Standard Book Box

Premium Book Box

(+50)
Cover Style
Monotone



Monotone covers use a single cover material for a classic and refined look.

Duotone and Tritone

(+50)

Duotone and Tri-Tone covers have your choice of either 2 or 3 mix-and-match cover materials. (see swatch samples below)

Photo Cut-Out

(+50)

Photo cut-out covers are a hybrid of photo and material. Your chosen photo will be in a laid into the center of the album cover with a material of your choosing being used across the rest of the cover.

Photo cover

(+150)

Choose from a luster, metallic, or canvas surface photo cover combined with the spine material of your choice. The back of the book can be a second photo cover or a second cover material.
Custom Imprinting
Custom imprinting can be added to the fron cover of Monotone, Duotone or Tritone books.
Imprinting colors include Gold, Silver, or Embossed(Italic Font Only).
Choose from Italic, Script, or Bold font styles.
Add up to 3 lines of text in the center and/or lower right front cover with a material cover for $10 per line.
Optional Moire Lining
(+100)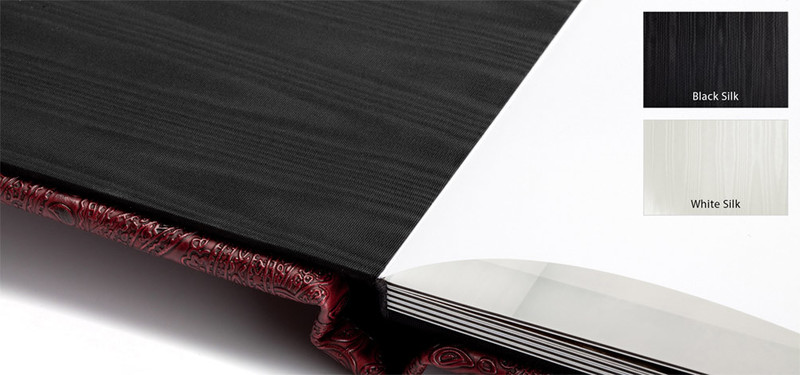 Optional moire lining adds style to the inside covers of your book. Choose between black or white silk. The moire lining option also indludes a vellum fly-page for an elegant finishing touch.
Page Corners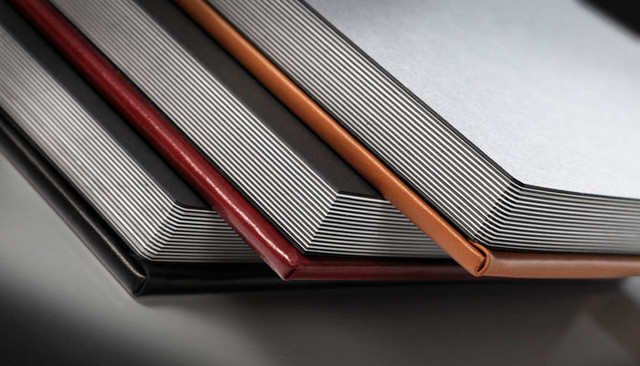 Book pages are available with your choice of 1/8-inch round, 1/2-inch round, or square corners.
Page Gilding
(+100)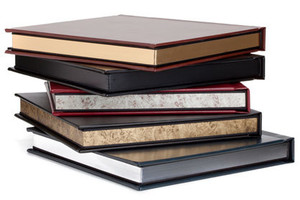 Optional page gilding add a touch of elegance to your album. Available in the follow style (in order shown):
Gold
Black
Marbled Silver
Marbled Gold
Silver
Swatches
Your choice for the cover and/or spine material.
Half Linen Light
Half Linen Dark
Linen Teal
Linen Tan
Linen Slate
Linen Sage
Linen Red
Linen Dark Olive
Linen Chocolate
Linen Cappuccino
Linen Blue
Linen Black
Linen Baby Pink
Linen Baby Blue
Leatherette Navy

Leatherette Honey

Leatherette Brown

Leatherette Flat Black

Leatherette White

Leatherette Red

Leatherette Black

Hammered Steel

Hammered Onyx

Hammered Copper







Ostrich Dogwood
(+50)
Ostrich Charcoal
(+50)
Ostrich Birch
(+50)
Ostrich Mahogany


(+50)



EcoSuede Black


(+50)



EcoSuede Clay


(+50)



EcoSuede White
(+50)
EcoSuede Stone
(+50)
EcoSuede Moss
(+50)
EcoSuede Cedar
(+50)
Crush Desert


(+50)



Crush Tangerine


(+50)







Western Saddle
(+50)
Western Rustic White
(+50)
Paisley Pearl
(+50)
Paisley Rouge
(+50)
Crush Slate


(+50)



Crush Mystic


(+50)













Cirque Sterling


(+50)



Cirque Jet


(+50)



Cirque Jade


(+50)



Cirque Cocoa


(+50)



Crush Midnight


(+50)



Crush Bronze
(+50)
Album Pricing Guide
| | |
| --- | --- |
| Description | Price |
| 12x12 w/ 125 images | $2000 |
| 12x12 w/ 75 images | $1500 |
| 10x10 w/ 50 images | $1000 |
| 8x8 w/ 50 images (Parent Book) | $750 |
| Add'l 25 images for 12x12 book | +$300 |
| Add'l 25 images for 10x10 book | +$250 |
| Add'l 25 images for 8x8 book | +$200 |
| Engagement sign-in book (10x10 w/ 10 images) | $350 |
| | |
| | |