Wedding at Two Brothers Roundhouse
The sun was shining brightly, and the sky was crisp and clear as Liz and JD made their way to Two Brothers Roundhouse for their wedding day. The venue was a perfect setting for an outdoor wedding, with its sprawling lawns and plenty of seating for the guests. Trees adorned the edges of the lawn, providing natural shade from the summer heat. As they approached, Liz felt butterflies in her stomach; she couldn't believe this was finally happening!
They were welcomed to Two Brothers Roundhouse by a staff member who showed them to their dressing rooms so they could get ready for the ceremony. Liz chose a classic white lace gown with a long train that complemented her beauty perfectly, while JD wore a tailored navy suit with matching lapels and a shirt. Both completed their looks with soft smiles and bright eyes full of anticipation.
When it was time, Liz walked down the aisle on her father's arm to meet her groom at the altar. Everyone in attendance stood up in awe as they exchanged vows and sealed them with a kiss – it was, without a doubt, one of the most beautiful weddings anyone had ever seen.
The reception took place inside Two Brothers Roundhouse where guests enjoyed hors d'oeuvres, signature cocktails, live music, dancing, and more throughout the night. It truly felt like a fairytale come true! As midnight approached, Liz and JD said goodbye to all of their friends and family with one final hug before heading off into married life together.
It had been an unforgettable day full of emotion and joy that would be remembered fondly for years to come.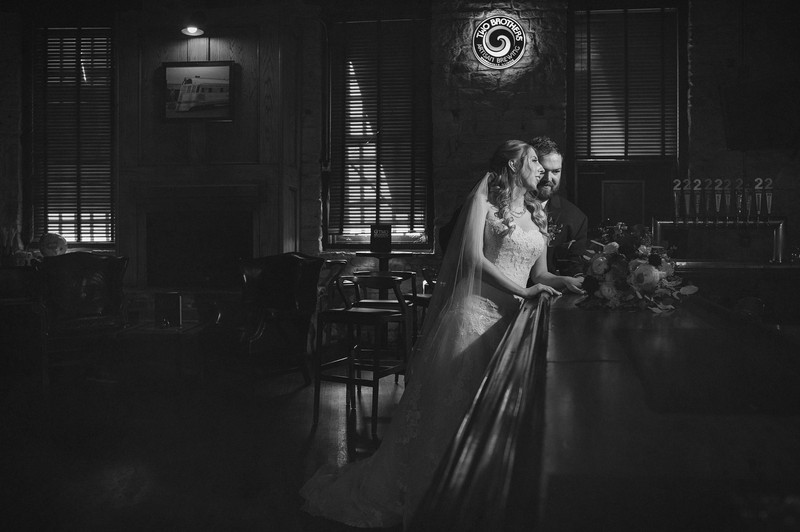 If you're getting married at Two Brothers Roundhouse and want to find out how we can help you have the beautiful wedding you desire with photographs that have your guests raving about it for weeks, months, or years after, contact us today.
Location: Aurora, Illinois.